The gears are Meccano, a pinion gear on the crankshaft drives the larger gear mounted in the moveable arm. A lever swings the arm back to engage a second gear on a counter shaft that in turn drives the spur gear differential on the opposite side.
The steering mechanism is a guitar tuning peg, welded to a mounting bracket. A 1/4" ID brass tube fits perfectly over the peg.
The smoke box is one I had, not sure what it originally belonged to but with the short smoke stack I was able to turn it in my 6" lathe so I could add the extension to give it that traditional Case look.
The Drive Sprocket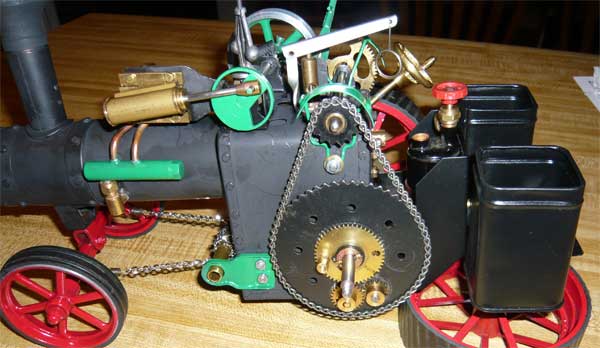 The drive sprocket is actually a spur gear differential, I have a breakdown of it here.
The cylinder is double acting from a Mamod loco, the exhaust goes to a fake heating tube and then into the open section of the boiler tube.
The Front End
The stock axle was replaced with a longer one to give the front wheels a wider stance. The smoke box cover is one I picked up online, I filed the fake rivets off and mounted it to end of boiler with hex head bolts. Old Abe started life as a hat pin.
Top View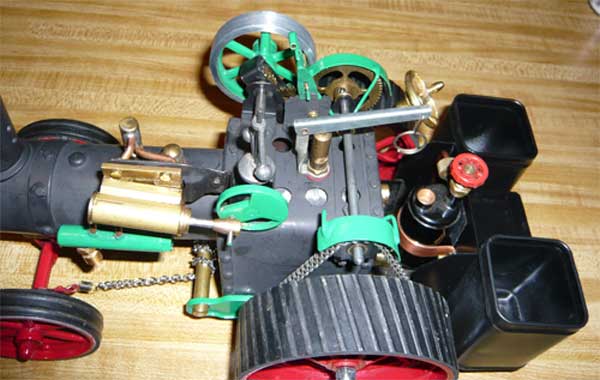 The older style brass Mamod whistle was leaking so was replaced with a newer lever style, the governor flyballs are from a Weeden engine.
Fuel Bunkers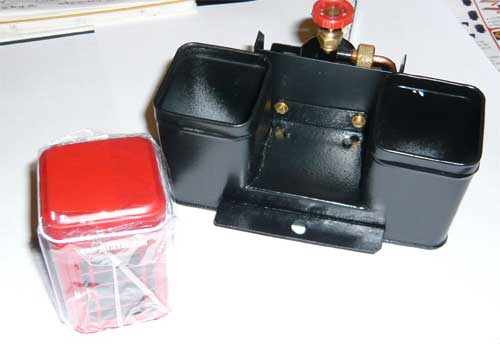 The fuel bunkers started out as small tins I found at the dollar store, bit of body work and they bolted to back of skuttle.