I have been experimenting with different types of gasket material for for the whistles, safety valves etc. and have found it very difficult to cut the small 1/4" ID sizes with the hole in the exact center. My first attempt was to simply use two hole punches and line the second one up by eye, I soon discovered this was not an easy thing to do with so little clearance to work with. To complicate matters even more I was working with teflon which is very slippery.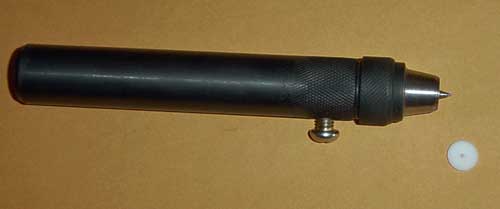 My second plan was to use a punch that has a centering pin for alignment, seemed like a great idea when I read about it, however the actual punch left much to be desired. Perhaps there are some quality products like this out there, the kit I bought was a real disappointment, the aligning pin is very sloppy so the mark is not always centered as is obvious in the above photo.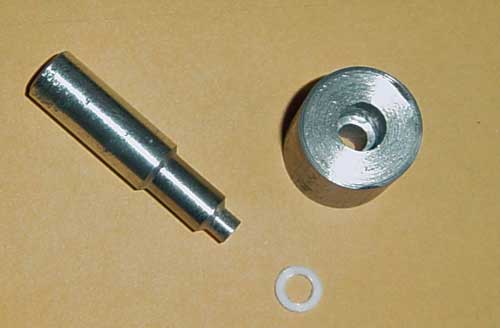 The method I came up with is to punch a round blank with the hole punch and then drop it into a die that I made, using a punch that fits snuggly in the die to cut out the center.
The die is made from a short length of shafting, drill a 1/4" hole through the center, then enlarge hole about 7/16" deep with a 3/8" mill so you have a flat bottom.

The punch is a length of 1/2" rod turned down to 3/8" to fit the hole in the die snuggly, then end is turned to 1/4".